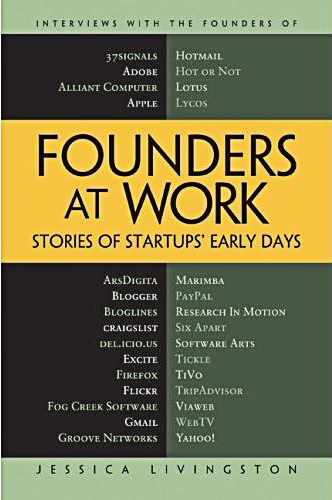 Das Programmangebot des nordamerikanischen Verlages Apress wird immer besser. Nicht nur die Titel im Bereich .Net, Open Source, Ruby, Python und Co. sind so nah am Puls der Zeit, dass sie oftmals als erstes eine neue Softwarewelt erschließen. Beispiele sind die Veröffentlichungen zu Ogre3d und Django. Es erscheinen rund um Bits und Bytes Titel, die immer wieder aus der Masse im Buchmarkt herausragen – so die Joel on Software-Bestseller von Joel Spolsky oder Micro-ISV – From Vision to Reality von Bob Walsh. Am 22. Januar ist nun ein weiteres Buch in den USA erschienen, das hoffentlich bald in Deutschland lieferbar sein wird. Bei Amazon ist es derzeit zum Preis von 21,20 Euro vorbestellbar.
In Founders At Work: Stories of Startup's Early Days geht es auf 500 Seiten um die frühen Tage von Hightech-Firmen aus der Sicht der Gründerpersönlichkeiten. Es sind Interviews mit 32 erfolgreichen Menschen enthalten:
Max Levchin, PayPal
Sabeer Bhatia, Hotmail
Steve Wozniak, Apple
Joe Kraus, Excite Inc.
Dan Bricklin, Software Arts
Mitchell Kapor, Lotus Development
Ray Ozzie, Iris Associates
Evan Williams, Blogger.com
Tim Brady, Yahoo!
Mike Lazaridis, Research in Motion
Arthur van Hoff, Marimba
Paul Buchheit, Gmail
Steve Perlman, WebTV
Mike Ramsey, TiVo
Paul Graham, ViaWeb
Joshua Schacter, Del.icio.us
Mark Fletcher, OneList und Bloglines
Craig Newmark, Craigslist
Caterina Fake, Flickr
Brewster Kahle, WAIS Internet
Charles Geschke, Adobe
Ann Winblad, Hummer Winblad
David H. Hansson, 37Signals
Philip Greenspun, ArsDigita
Joel Spolsky, Fog Creek Software
Stephen Kaufer, TripAdvisor
James Hong, HotorNot
Jamed Currier, Tickle
Blake Ross, Firefox
Mena Trott, Six Apart
Bob Davis, Lycos
Ron Gruner, Alliant
Die Autorin des Buches, Jessica Livingston, ist nah dran an der Welt von Ruby on Rails, Python und Web 2.0. Sie ist Gründungsgesellschafterin bei Y Combinator, einem Venture-Unternehmen, das Startups finanziert. Sie organisiert  die Startup School, die wohl am stärksten mit dem Namen Paul Graham verbunden ist. Erst vor kurzem machte eine Finanzierung von Y Combinator Schlagzeilen. Das Startup reddit.com wurde von der Verlagsgruppe Conde Nast (Wired) gekauft. Die Reddit-Gründer – drei junge Hacker – wurden mit ihrer Python-Website reich.   
Update 29.01. – Das Buch ist nun bei Amazon zum Preis von 21.20 Euro lieferbar.