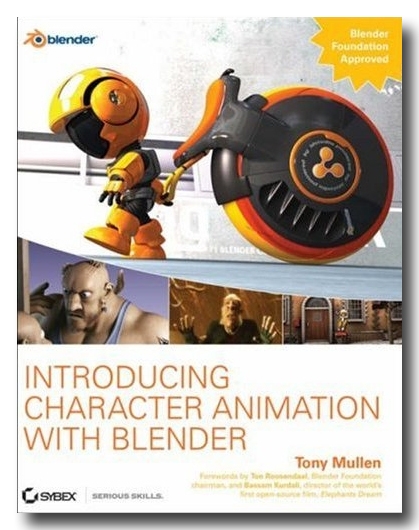 Anfang März erscheint in den USA das Buch Introducing Character Animation with Blender. Bei Amazon Deutschland wird es voraussichtlich ab dem 28. März zum Preis von 38,45 Euro lieferbar sein. Auf den Verlagsseiten können drei Probekapitel im pdf-Format heruntergeladen werden: Wiley
Das Buch hat 496 Seiten und ist in vier Abschnitte gegliedert:
Part I: Creating a Character with Blender
Blender Basics: Interface and Objects
Working with Meshes
Completing the Model with Materials, Textures, and Particles
Armatures and Rigging
Shape Keys and Facial Rigging

Part II: Bringing it to Life: Animation
Basics of Animation
Facial Animation and Lip Sync
Nonlinear Animation
Further Issues in Character Animation
Lighting, Rendering, and Editing Your Animation
Using Python Scripts

Part III: Blender in Production
Full-scale Productions: Elephants Dream and Plumiferos
A Look Into Elephants Dream
Feifi the Canary: Plumiferos Takes Wing
Blender in the Pipeline

Part IV: Blender and Beyond
Other Software and Formats
Resources for Further Learning
Auf der DVD mitgeliefert werden Blender-Installationsdateien für Windows, Linux und Mac, der Film Elephants Dream, der als erstes Open-Source-Movie mit Blender entwickelt wurde, sowie eine Sammlung nützlicher Hilfsprogramme für die 3D-Produktion und sämtliche Projektdateien aus den Tutorials des Buches.